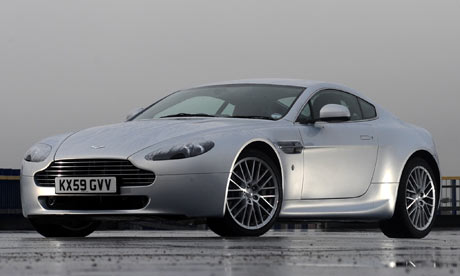 Aston Martin V8 ­Vantage
is one such car. No slouch in the visual department, it's also a rare aural delight. I say this as someone who normally finds little ­pleasure in hearing an accelerating engine. Most often, and especially late at night outside my house, it ­inspires only thoughts of the violent revenge I'd like to carry out on the driver of the guilty vehicle.
But I feel sure I could listen to CDs of a speeding V8 the way some ­insomniacs find comfort in recordings of whale song. It's a deeply soulful sound, like a John Coltrane solo – only played on an alloy camshaft rather than a tenor saxophone.
What's more, it grows sweeter as the revs increase, so you can find yourself flirting with three penalty points while acceler­ating towards that beckoning siren sound. Alas, "I'm sorry officer, I was beguiled by the music of the engine", is the kind of explanation that soon leads to an exchange with a Breathalyser.
Why buy an Aston Martin V8 ­Vantage rather than, say, a Porsche 911? To most of us, this is about as relevant as asking where would we least like to live, North Korea or Burma? It's an abstract inquiry, a ­hypothetical game. Nevertheless, there are individuals who do face this very dilemma. And the answer, ultimately, is that you'd opt for the Vantage for reasons of style.